Sports
ISKATE by Roseate organizes Figure Skating Camp led by Russian expert coach Mikhaylovich Lada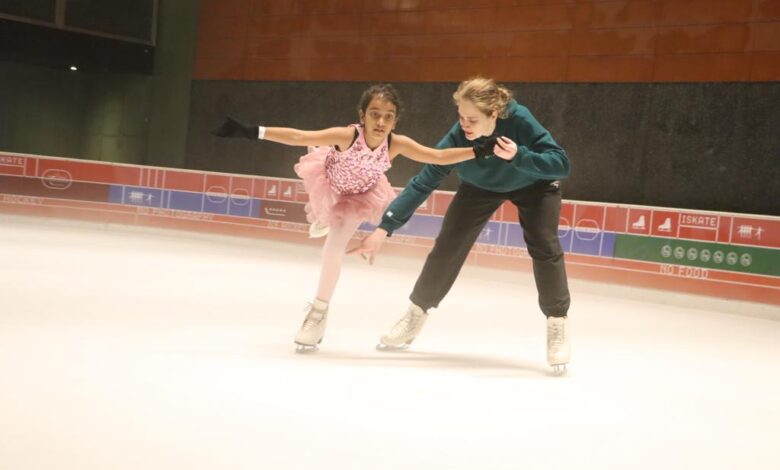 Gurugram [India]: India's largest indoor ice skating rink ISKATE successfully conducted a figure skating camp led by Russian expert coach Mikhaylovich Lada. The camp started on 24th October and will conclude on 4th November 2023.
Born in Moscow, Lada has been a participant of all Russian and international figure skating competitions. A graduate from the Russian State University of Sports, she has a work experience of 5 years with novice skaters as well as professional athletes (3-14 years). At ISKATE School, she will be training more than 10 kids (under 14 years of age) from states like Delhi, Haryana, Lucknow and Dehradun.
This 10-day camp is in line with ISKATE's endeavour to bring best of international ice skating coaches to India to train ice skaters. 
According to Karan Rai, Business Head, ISKATE by Roseate, "At ISKATE School, we are committed to consistently provide world-class training facilities, ensuring that Indian athletes are well-prepared for international championships. This camp represents a remarkable opportunity for ice skaters to acquire valuable knowledge and skills from an esteemed international figure skating coach. We believe that by bridging the gap between aspiration and accomplishment, we can empower our athletes to reach new heights in their pursuit of excellence on the ice."
The training camp was held for two categories: the basic and intermediate levels, each comprising five talented skaters. These athletes embarked on an enlightening journey, honing their figure skating skills under the guidance of the Russian coach. The skaters delved into intricate techniques, including the art of the camel spin, sit spin, eye, beillmann spin, salchow jump and loop jump.
Speaking on the training camp, Kyara Sacchdev, national figure skater said, "The figure skating camp has been an amazing experience for me. I'm so thankful to my coach, Mikhaylovich Lada, for teaching me so many new moves and techniques. Big thanks to ISKATE for offering me a platform to practice the sport all year round. One day, I hope to make India proud on the world stage."
"In June this year, Svetlana Akhmerona, a Russian figure skating coach who is a former member of the National Russia Team and a master of sport-USSR, conducted basic to intermediate level training in figure skating for 12 students under 12 years of age for 10 days, from June 12 – June 21 at ISKATE.
Two renowned Australian coaches, namely Richard Laidlaw and Giuseppe Triulcio, conducted 10 days of intermediate to advanced level training at ISKATE, for more than 30 national-level figure skaters aged between 6 and 18 years from June 23 to July 2. While Richard Laidlaw is an International Skating Union (ISU) accredited Elite Coach-Level 6, Giuseppe Triulcio is a former Australian Champion singles skater and one of the very few skaters in Australia to master all his triple jumps.
In the month of October 2023, ISKATE School proudly hosted a series of state camps and championships, solidifying its position as a prominent hub for ice skating training in India. These events included the Haryana District Bandy Camp, the All India National Short Track Speed Skating Camp, the 2023 Bandy National Championship, the Telangana Short Track Speed Skating Camp and Championship, and the Orissa Short Track Speed Skating Camp and Championship. These training camps and championships showcase ISKATE School's dedication to fostering ice skating talent and facilitating a competitive platform on a regional and national level."
About ISKATE by Roseate
Inaugurated in the year 2011, ISKATE by Roseate is spread over a sprawling 15,000 sq. feet and it is the only ice sports facility in India that is available throughout the year. Over the years, it has evolved to be a popular lifestyle entertainment destination, which offers a unique experience of skating on real ice and can accommodate up to 150 skaters at any given point of time. In addition to an ice rink, the facility hosts a training school, the ISKATE School, the faculty of which includes All India National Coaches and athletes. The ISKATE School offers basic, intermediate and advanced levels of training in winter sports like ice hockey and ice skating. Professional training for Olympic sports like figure skating, speed skating and ice hockey is also offered at the school. The School regularly hosts training sessions spearheaded by international coaches visiting from the USA, Canada, Russia, Korea and Germany. To promote and develop winter sports in India, national level ice skating and ice hockey championships are held annually at ISKATE by Roseate.
Website: www.iskate.co.in