Lifestyle
A 10-year-old influencer is giving 'gyaan' on work and life and grownups are loving it!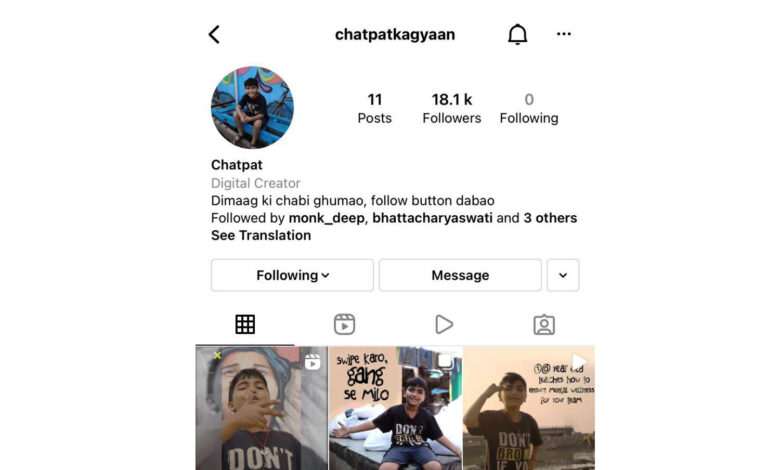 Launched on Children's Day, Chatpatkagyaan goes viral on social media; garners over 2.5 million views and counting
New Delhi, Nov 18, 2021: There is a new influencer in town, and he is winning hearts! He is smart and sassy, authentic, heartfelt, and worldly-wise and is all of 10 years!
'Chatpat' from Mumbai made his online debut on Children's Day and ever since this 'gully-boy' (as he is being affectionately referred to) has been sharing quirky and fun fundas on work and life that almost makes too much sense for a 10-year-old!
In just 4 days, Chatpat has already garnered a following of over 18K and more than 2.5 million views. Celebrity influencers are also commenting, giving him shoutouts and following him on social platforms. Clearly, the young and mature audiences are lapping up 'Chatpatkagyaan'!
Chatpat is seen with his friends (Chatpat ka gang) and shares his wisdom as Chatpatkagyaan on Instagram, YouTube, and LinkedIn. Some un-missable ones are his ideas on living rent-free in Mumbai, how to handle work pressure, and seeking a raise from your boss.
One could call his content slice-of-life as he comments on matters that children, possibly unintentionally, catch and interpret. His take on things – daily life and its challenges is practical, wise and awakening. It is also poignant because somehow, he has caught the pulse of big city life, its challenges and struggles of grown-ups a bit too early.
Check him out on Instagram: https://www.instagram.com/chatpatkagyaan/