Lifestyle
OMBIKA Great Discounted Republic Day Sale: Great Deals for the Indian Online Shoppers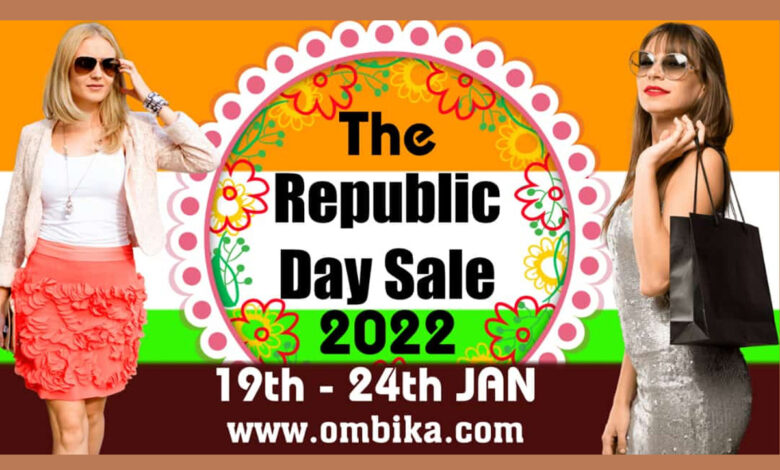 OMBIKA Great Discounted Republic Day Sale: Great Deals for the Indian Online Shoppers would be live from 19th January 2022
We Indians have the great importance of our REPUBLIC DAY in our lives. We are celebrating Republic Day on 26th January every year since 1950 and it's our 73rd Republic Day of ours. 26th January 1950 is the date on which the Constitution of India came into the effect. It's a moment of celebration for the whole country and OMBIKA also wants to be a part of this celebration and brings.
OMBIKA Great Discounted Republic Day Sale
We are inviting sellers from all over India to register themselves to sell their products during this REPUBLIC DAY SALE. This is a great opportunity to boost the sale & revenue as well for the existing sellers of www.ombika.com and also for the sellers who will register now.
E-Commerce or Online Shopping has a great future in India. That's the reason behind businesses are moving to online or digital mode instead of offline. Most people from India are doing online shopping; due to the lack of time. Who wants to spend time in the physical market, while everything is available easily online?
Doing online shopping is good because it saves our time. But, we Indians have to shop always from Indian Online Store only. Because when we shop from Indian Online Store, it boost to our Indian Economy and it also supports to that store in their path of success.
In the Indian E-Commerce Industry, lots of e-commerce players are available. Some are the oldest & big shots of the industry and some are newer & small players of the industry. But when discussing competition within them, there is no any difference and all players are offering best from them.
OMBIKA is also one of them and growing successfully day by day with the great support and trust of people from all over India. We are in the e-commerce industry since January 2019 and trying to serve always better.
OMBIKA also brings a "The REPUBLIC DAY SALE" which would be started from 19th January 2022 and ends by 24th January 2022. Our main focus would be on Indian Handloom & Handicrafts during "The REPUBLIC DAY SALE". Products from Indian Handloom & Handicrafts are available at the shopping platform of OMBIKA with very good discounts. So, try to shop more n more to support our handloom & handicrafts sellers. This little bit contribution would be more beneficial to the sellers of Handloom & handicrafts from all over India during this pandemic situation.
Along with Handloom & Handicrafts Sellers; sellers from 250+ categories are also available to serve you better during this REPUBLIC DAY SALE. Always keep in mind when shopping online that you have to support the Indian Online Store and shop only from Indian Online Store to boost our Indian Economy.
We are inviting more n more people from all over India to this "OMBIKA Great Discounted REPUBLIC DAY SALE" for shopping online more n more and their great support to the handloom & handicrafts sellers along with all other sellers.
Shopping at OMBIKA is much easier & convenient; due to Cash on Delivery (COD), Pay Later (Users of Simpl, Flexipay & ICICI can avail), EMI (Users of Credit Cards, ZestMoney, Early Salary can avail), UPI/QR Payment, Wallet Payment, Payment using Netbanking, Payment using PayPal and International Cards, Payment using different cards like; Visa Cards, MasterCard, Rupay Cards, Maestro, Amex Cards, Dinners Club etc. And, lots of payment features would be available very soon with us like; LazyPay, Walnut369, Instacred etc.
Shop from here: https://www.ombika.com
Interested in Online Selling, Register from here: https://www.ombika.com/sell