Health & Fitness
Dr Gitartha Baruah's dedication towards helping others and his efforts in saving lives during COVID-19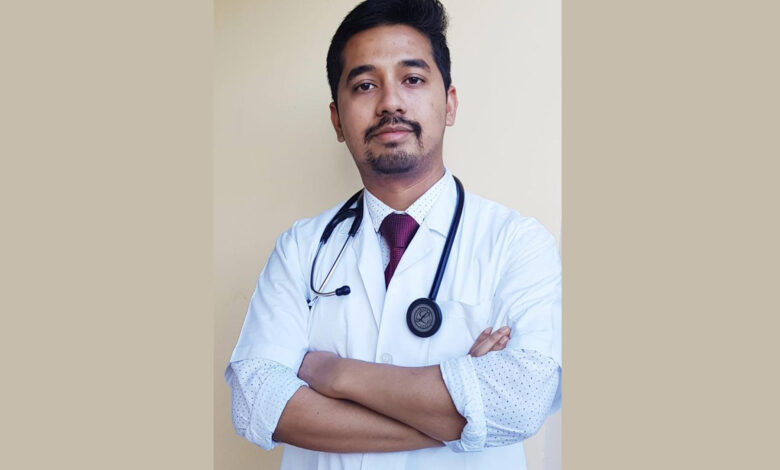 Dr Gitartha Baruah is a renowned interventional Pulmonologist working in Dibrugarh, Assam with excellent clinical experience in Respiratory Medicine and Chest Diseases. Currently, Dr Gitartha is a Consultant Pulmonologist & the Head of the Department of Pulmonary Medicine, Brahmaputra Diagnostics and Hospital, Dibrugarh. He is a gold medalist during his under graduation (MBBS) from the prestigious Assam Medical College, Dibrugarh. Dr Gitartha did his M.D in Respiratory Medicine from the esteemed Dr. D Y Patil Medical College, Hospital & Research Centre, Pune, Maharashtra. He did his training in Allery and Immunotherapy from the National Allergy Centre, New Delhi and Fellowship in Intensive Care Medicine from Apollo, New Delhi. He was offered lucrative jobs after his Post Graduation in Maharashtra and New Delhi, but Dr. Gitartha being a philanthropist, returned to his native, Dibrugarh in 2019 and started his selfless service for the people of this region.
After a few months in his practice, the COVID-19 pandemic Started. The Pandemic affected all countries and all races across the globe. Assam too was severely affected during the covid crises & Dibrugarh district showed steady rise in covid ceases with over 10% positivity rate even after increased testing. However, at par to the number of cases and the burden of the disease, there are only a few pulmonologist in entire Upper Assam and the neighbouring state of Arunachal Pradesh. In this background, we thought of sharing Dr Gitartha's selfless efforts in treating COVID-19 cases with utmost zeal and dedication.
The Pulmonary Medicine Department Brahmatuptra Hospital, Dibrugarh under the able leadership of  Dr Gitartha, became the first private hospital in Upper Assam to start Covid care with ICU facility.  He along with his trained team of devoted doctors, rendered heathcare at par to any institute of repute across the country following all the standard COVID treatment protocols. Dr. Gitartha delivered day and night of untiring efforts despite all the hurdles, the changing genomics of the virus, varying trends of the disease severity and could manage the covid cases with favourable outcome. To his credit, he treated  almost 2000 cases of covid cases with a very low mortality rate. Infact the mortality rate In Brahmaputra Hospital COVID Wing was one of the lowest in the not only in the entire state, but probably in the country. For his contribution during the covid pandemic, in April 2022, Dr Gitartha was felicitated by All Assam Students Union, the largest and the most prestigious students' organization of North East India recognizing quality works across the state since ages.
Besides, Dr Gitartha, has performed numerous interventional procedures, Bronchoscopies, thoracoscopies, CT-guided lung biopsies, sleep studies, allergy testing etc. He has done pioneering works for Lung Cancer patients of Upper Assam and people of Arunachal Pradesh in terms of diagnosis and management. Apart from this, he is a also a member of various organisations like European Respiratory Society and American College of Chest Physian. Dr Gitartha has authored numerous publications and co-edited papers for national and international journals and is regulalrly invited as an Expert in various T.V shows related to Health Awareness in Assam. Dr Gitartha, being a Samaritan, is an active founder member of NGO Care Axom Foundation that contributes for the upliftment of the meritorious students from economically weaker sections and provide free healthcare by organizing various health camps.